Submitted by: George Muenz. I am 65 years old and until my 61st birthday, I did not know anything at all about my family, from both sides. My late Mother had survived Auschwitz and Mauthausen camps and never told us even one word. I did not know where she lived or that she had 3 brothers and a sister or my Grandparents names. I knew nothing at all.
At age 61, I discovered she had lived in Csenger in Hungary, near the Romanian border. I discovered she had 3 brothers and a sister. I discovered the names of my Grandparents, Simon and Pepi Jozefin, and my Great Grandparents, Ferenc Schoner and Maria Abraham.
I have now twice visited her hometown and last year there was a memorial to families from that region and over 130 people from all over the world attended.
It was surreal for me walking the streets, knowing that this is where my family lived, walked, worked, loved, and nothing remains of them.
I discovered that my Grandparents, Great Grandparents, Aunt and her 3-year-old boy were gassed on arrival at Auschwitz. I discovered that I had an Uncle who is now in Australia who had survived Buchenwald and had written several books. In one of them, he describes the Hungarian Gendarmes taking all their meager possessions including my Grandmothers wedding ring and forcing them into the Ghetto. He describes the horrific 3 days and nights cattle car ride to Auschwitz and then being separated from his family, never to see them again except for being reunited with my Mother after the war.
My Mother's family house no longer existed, but their presence existed for me on every street, store and corner. No Jews live in that region anymore.
The picture above was sent to me by the grandchildren of my Uncle Elemer, far right, whose existence I did not know of till 2 years ago. This is my family in Csenger. Right to Left: My Uncle Elemer, who together with my Uncle Miksa on the far left, emigrated to Argentina before the Nazis came. Next to Elemer, is my late Mother Rosa, probably around 12 or 13 here. Next is my Grandfather Simon, and on his lap, my Uncle Sandor. Next is my Grandmother Pepi Jozefin and next to her, my Aunt Olga. Finally, my Uncle Miksa. I looked EXACTLY like him when I was younger.
I know that my Grandparents had a small fruit business.
The picture below is of a plaque erected by the Town of Csenger in 2019 in remembrance of the Jewish Community that no longer exists.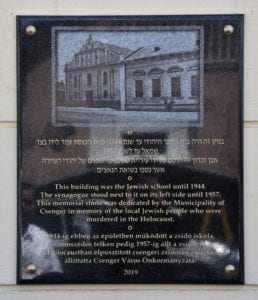 https://medium.com/@Cervelovan/my-mother-prisoner-474-1d387b628bcb