Submitted by Sami Ambar: My grandfather Salo Feuerwerk, an Austrian Jewish citizen living in Vienna, in 1924 purchased a 14 unit apartment building plus commercial space on the ground floor (now a chocolate shop) in the Prenzlauer Berg district of East Berlin, Germany. He did it to protect himself from the hyperinflation at the time, also banks at the time were going bankrupt in Austria and Germany.
Shortly before German troops crossed into Austria on March 12th, 1938, fearing growing instability instigated by Nazi Germany, the Feuerwerk family fled Vienna to Bucharest, Romania where my grandfather had a door lock factory.
Shortly after Austria was annexed (the Anschluss) all Jews in Austria and Germany received a Form to be completed called "Report of Jewish Fortunes as per the Law of April 27th, 1938." The Report had to be completed by June 30th. As my grandfather was an Austrian citizen he completed the form. It was completed on May 16th, 1939 nearly one year late as real estate, inventory / merchandise, silver, gold, diamonds / jewelry needed "Aryan appraisals."
Subsequently all my grandfather's property in Austria and Germany was expropriated / stolen, including the Berlin apartment building. The last rent he received was in 1937; thereafter from 1938 onwards, our family never ever received any more rent generated from our Berlin building. The rent was stolen by Nazi Germany, Communist Germany and the Federal Republic of Germany.
Unlike our building in Vienna, Lottumstrasse 15 was never Aryanized; sold to an aryan. It also survived the war bombings and in 1946 was in adequate condition with tenants living in it and paying the rent. It was in the Russian zone and became part of the Communist GDR until reunification in 1990.
In November of 1940 the Feuerwerk family foreseeing the danger facing the Jews of Europe were able to flee Romania on the deck of a tramp ship to the British Mandate of Palestine. In 1943 Ella Feuerwerk my mother, became an Egyptian citizen as a result of her marriage to my father Albert Ibrahim Ambar. However, in 1956 Ella had to flee Egypt as my father's business was expropriated as we were Jewish. We fled to Vienna; as Egypt revoked our Egyptian nationality Ella became an Austrian citizen again.
In 1988, my mother received only partial compensation from the Communist German Democratic Republic (GDR) for the property at Lottumstrasse 15. She continued to press her case against the government of the GDR, but in 1989, with the reunification of Germany, she faced many challenges to receive compensation for the remaining value of the property. Through the intervening years, many Jewish organizations advocated on her behalf to restitute her property. In 2001, the Federal Republic of Germany took official Title to our building and then sold it in 2006.
Currently, the building is valued at approximately $7 million. It is located in the very trendy bohemian neighborhood of Berlin near the Jewish quarter surrounded by shops and restaurants – not far from the Alexanderplatz and the TV Tower.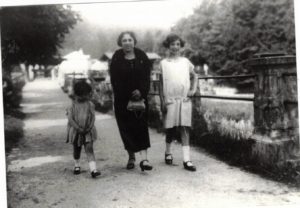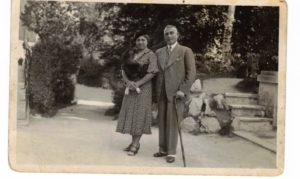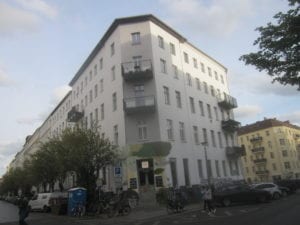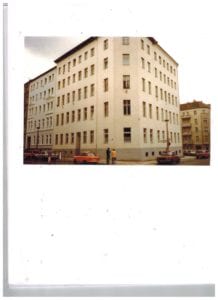 Lottumstrasse 15 in 2019 and in 1990 just after German Reunification.